A bold crochet project is fun and interesting, but sometimes you need a softer palette with a more subtle, subdued gamma. Let's take a look at one of crochet's favorite categories: the easy baby blanket. It's smaller than normal, so it's perfect for daycare, stroller walks, and car seat adventures. This would also be very appreciated as a baby shower or housewarming gift for a young family. We know you can be bold and spicy in crochet, but you can also express the kind and soft side. You can be sure that your baby will be cozy and warm. Take a look at our selection best crochet blanket for babies. link free pattern It's below the photo.
Crochet 20 different sea creatures with StringyDingDing's first crochet pattern book!
25% Off Digital Books

You may also like:
Follow us for more free designs every day. Facebook Share your ideas and work at our facebook group!
Stripes, bobbles, petals, basic crochet stitches – these little blankets can include any technique you can think of. If the pattern is very repetitive but small enough not to be overwhelming, making it is a great way for beginners to hone their crochet skills. The yarn you choose for your baby's skin should be soft, smooth and delicate. There are many threads that are especially recommended for baby products. Would you like to opt for a classic pastel color like light blue or pink? Or would you prefer a bold, juicy palette? It's all up to you. Once you find the pattern you want to create, the final look is completely up to you. Choose wisely, but don't be afraid to experiment!
starlight baby blanket
designed by Barbara Smith
This beautiful spring blanket is perfect for a crib or stroller. Soft and lovely colors match and highlight any baby outfit. The blanket is approximately 33.5 inches by 27.5 inches, but can be easily adjusted if you need a larger size. Best of all, it's super easy to customize! Let me know if you would like to give me this free crochet blanket! I personally love this pattern so much that I plan to make it this week!
Photo: Barbara Smith / made-in-k-town.com
Find Original Free Patterns at made-in-k-town.com.
soft and cozy baby afghan
Designed by Christine Long
Soft and Snuggly little afghan is a thick, luxurious blanket or cradle lining that envelops your sprogs warmly but is breathable enough to prevent overheating. Moreover, the blanket itself is simply beautiful with its variegated surface and soft threads that give it an air of softness and warmth that are essential characteristics of a baby blanket.
CJ's flower blanket
Designed by Daisy Farm Crafts
Find out how to knit this awesome pattern in the photo below! This adorable baby blanket balances delicacy and texture. It is similar to a star stitch, but the name comes from the fact that it also resembles a small flower. Plus, it's a great maternity gift idea! It is also a neutral baby blanket and is suitable for both girls and boys! So if your baby shower or birthday is coming up, use this!
one skein baby blanket
Designed by Caron International
Let's make a new baby blanket! The adorable crocheted baby blanket below is another classic and a very cost-effective accessory that you can make in no time. Quickly complete this delightful blanket using a single skein and simple repeating pattern as the box says. If you want a more cozy duvet, you can freely use a thick thread and it will feel like a cloud!
Photo: Caron International / Ravelry.com
Find Original Free Patterns at yarnspirations.comLearn more about the photo project below here.
sideways shell baby afghan
The side shell afghan in the photo below is a fun take on the shell stitch. In fact, one of its most striking features is its unique, almost mosaic-like texture. Combined with the right color choices, it becomes a truly unique landscape. Plus, this cool blanket would make a great baby shower gift, right? It's one of a kind and very unique, so you'll love how happy it will make your expectant parents!
Photo: Donna Laing / Ravelry.com
Find Original Free Patterns at projectlinus.comLearn more about photography projects here and here.
6 day baby blanket
We recommend using one of the patterns above. Also, baby wool can be used to create most of the brightly colored patterns, so it can meet your requirements for a very elegant, soft and delicate blanket. Also the blanket size is perfect for making the ideal stroller blanket. Take a look at these amazing examples and let us know in the comments below if you like them.
Free Crochet Baby Blanket Patterns
Designed by Allison Robianco
Photo: Butfirstcrochet / Instagram.com
Find Original Free Patterns at Modern Grace Design.compicture is here.
shell stitch blanket
Designed by Daisy Farm Crafts
If you prefer a plain blanket over a smokey shade, consider using a shell-stitched blankie in pale pink, white or off-white. This free baby blanket is made using shell stitching and is absolutely gorgeous and eye-catching! Play with the colors and create your own version of this timeless pattern!
Photo: Daisy Farm Crafts / daisyfarmcrafts.com
Find Original Free Patterns at Daisy Farmcraft.com
block stitch blanket
Photo: Erica Dietz / 5littlemonsters.com
Find Original Free Patterns at 5littlemonsters.com.
pillow soft blanket
Designed by Pattern Paradise
These lovely, interesting structural stitches in three colors look cute and comfy. And look at these beautiful borders! I simply fell in love with this pattern and will be giving it a try in the next few days! Let me know if you like it!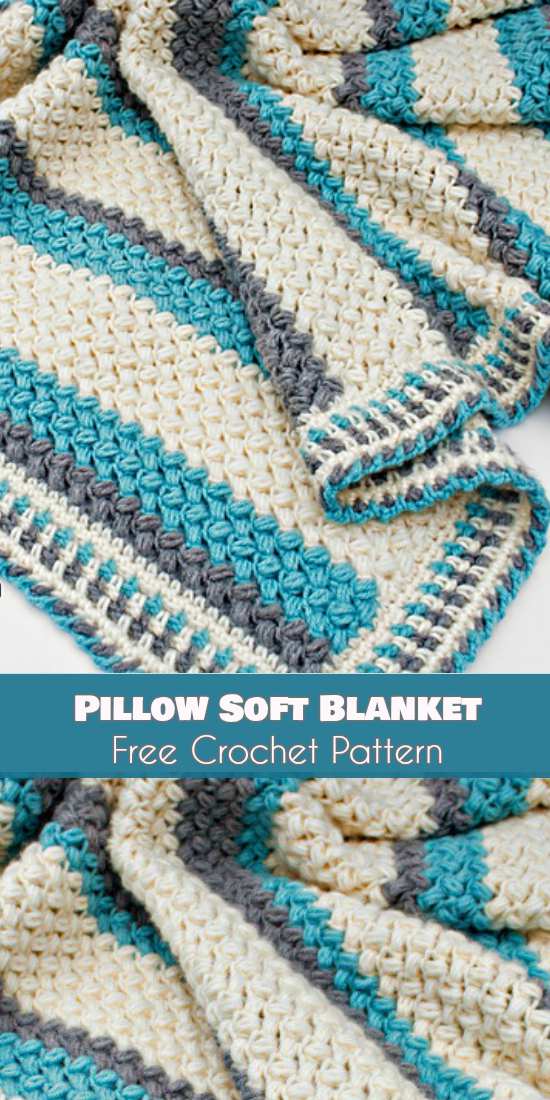 Photo courtesy of pattern-paradise / pattern-paradise.com
Find Original Free Patterns at pattern paradise.com.
Fluffy Meringue Stitch Blanket
designed by yarnspirations
Fluffy shell stitching in virus technology is absolutely stunning. If you haven't used it yet, try these knitting stitches! Use a different color for each row or use ombré yarn. This crochet blankie pattern will be the sweetest gift for your baby! And isn't that the perfect baby shower gift?
Photo courtesy of yarnspirations / yarnspirations.com
Find Original Free Patterns at yarnspirations.com.
Mile a Minute Baby Afghanistan
This unusual handmade crochet Afghan pictured below uses decorative stitch stripes and has lovely scalloped edges. It's too conspicuous. right? This blanket crochet pattern will definitely make your nursery look so much more cozy! Make this blanket with your favorite color combination! It's entirely up to you. In the end, the most important thing is to have fun. right?
Photo courtesy of CuddleSoft / CuddleSoft.com
Find Original Free Patterns at CuddleSoft.com.
summer striped baby afghan
How is your crochet project going? Is there room for one or two more? In that case, you should take a look at this lightweight design in the photo below. It will be perfect for summer thanks to the lace openwork and fine threads. This crochet blanket will look just too sweet for a stroller! What's more, this blanket is made with simple stitches, so it can be whipped up in just a few hours!
Photo by lionbrand / lionbrand.com
Find Original Free Patterns at lionbrand.com.
Petal Stitch Baby Blanket
Designed by Daisy Farmcraft
I simply fell in love with the petal stitch! It looks really complicated, but it's actually very beginner friendly. Once you learn this beautiful technique, you can use it on other projects like cushions, sweaters, scarves and more. It's entirely up to you! Then take a look at the pretty and easy baby blankets in the picture below! You will simply fall in love with these easy-to-knit patterns!
Photo: daisyfarmcrafts / daisyfarmcrafts.com
Find Original Free Patterns at Daisy Farmcraft.com.
Rainbow 'Spring' ruffle blanket
Creamy frills and colorful stripes? Yes please! A great way to use leftover yarn ends to create unique crochet accessories. Not only will this be the sweetest gift, but it will also be a warm and cozy piece to soothe your baby. Of course it's free Baby Blankie, so get started with this fantastic project as soon as possible!
Photo: dadasplace / dadasplace.com
Find Original Free Patterns at dataplace.com.
shell stitch baby blanket
designed by stitchinmommy
This very simple technique in the photo is the basis for this thick, crispy crocheted blankie. If you love soft threads and eye-catching textures, then this free pattern will really be a game changer for you! Especially if you've never tried the crochet shells this blanket uses! And blankets so easy! So, if you want to make a simple baby blanket, we have it for you!
photo stitchinmommy / stitchinmommy.com
Find Original Free Patterns at stitchinmommy.com
tuti striped baby blanket
Designed by tinasallsorts
This cheerful crochet design in the photo will look great in the nursery and you won't be bored! So, if you're looking for a comfortable crochet blankie pattern, this pattern from Tinasallorts will be perfect. Especially if you're a fan of stripes on your blanket. This crochet blanket pattern is easy and will bring you a lot of joy and it is so comfortable to make!
Photo credit: tinasallsorts / tinasallsorts.com
Find Original Free Patterns at tinasallsorts.com.
Easy 'DONE IN A DAY' baby blanket
designed by dabblesandbabbles
Finally, an adorable crochet baby blanket, an amazing and quick project for beginners. You can make it in one day! If you've already worked with single crochet and double crochet, this will be a piece of cake! This is a very easy pattern that you can make with leftover materials and your favorite worsted or cotton yarn.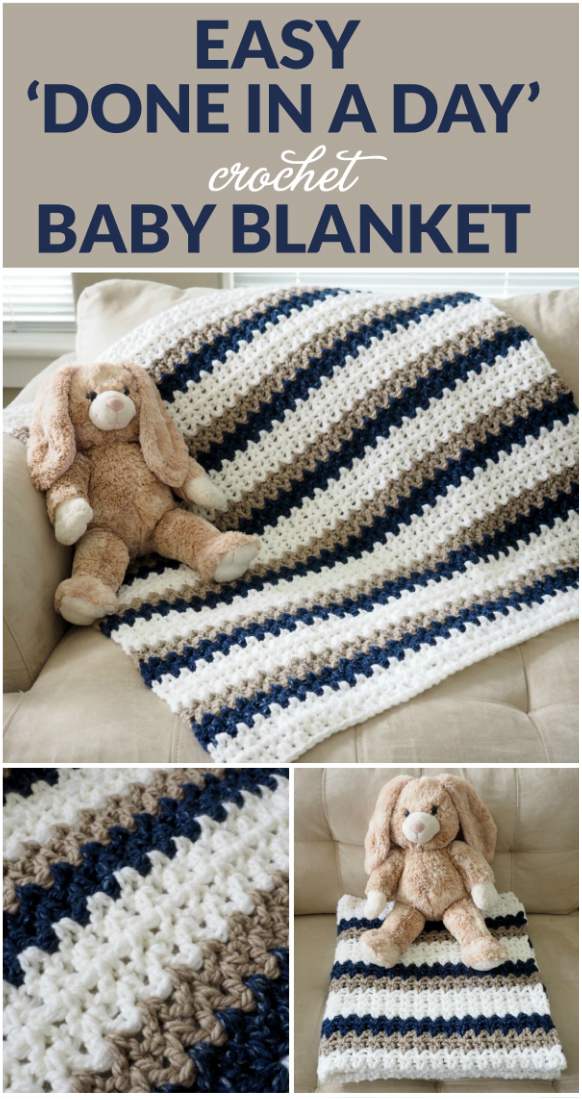 Follow us for more free designs every day. Facebook Share your ideas and work at our facebook group!