Warm up your decor with this cozy crochet wreath!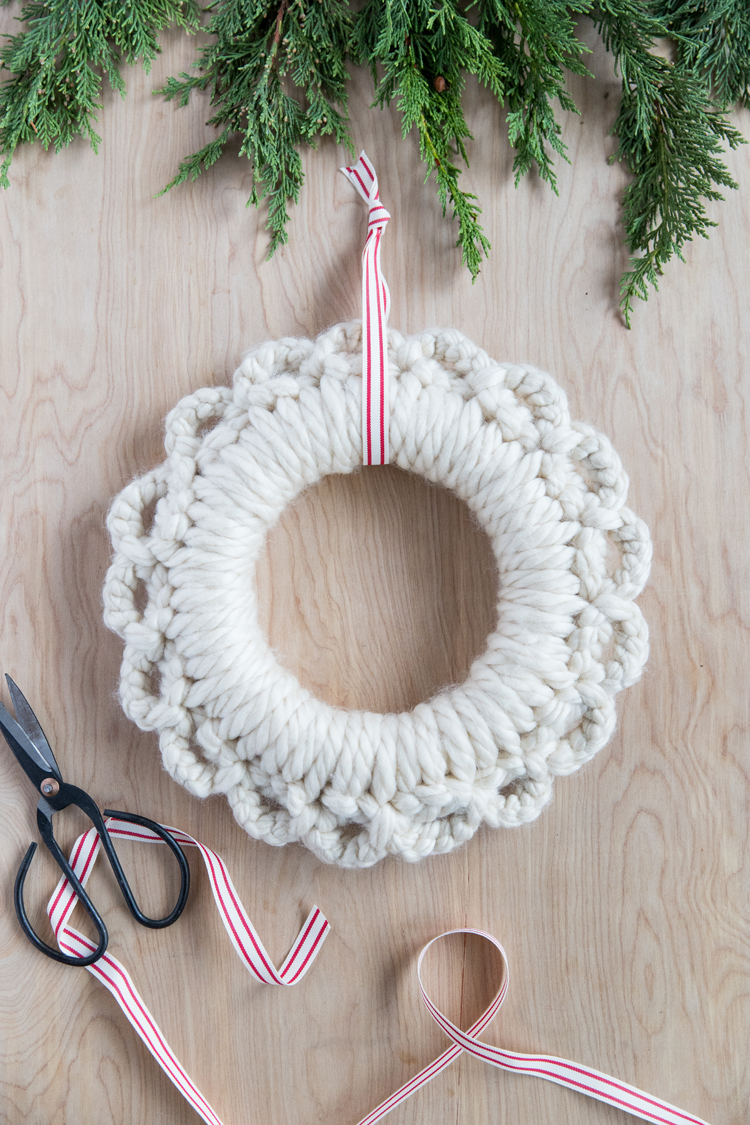 It's a perfect transition piece that still works for Thanksgiving, but it's also a great way to dip your feet into Christmas crafts. Great all winter long!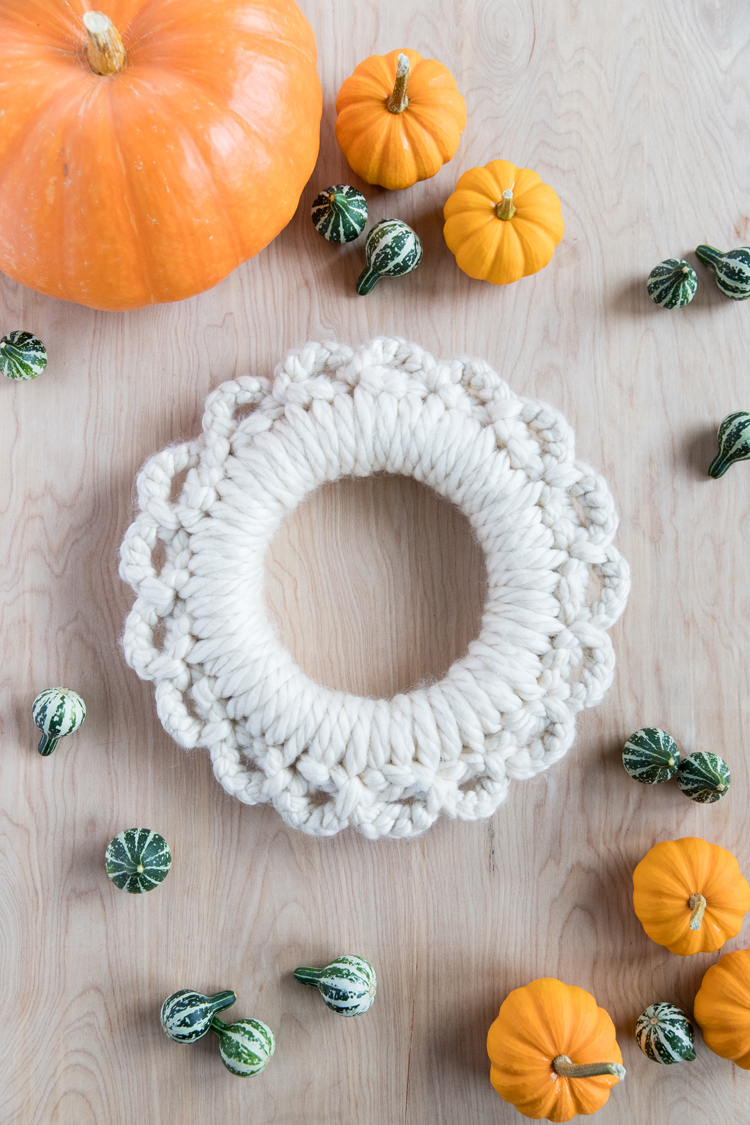 Due to the use of jumbo threads, they join quickly and easily.
You may be wondering if easy Is it good enough for beginners? The short answer is yes!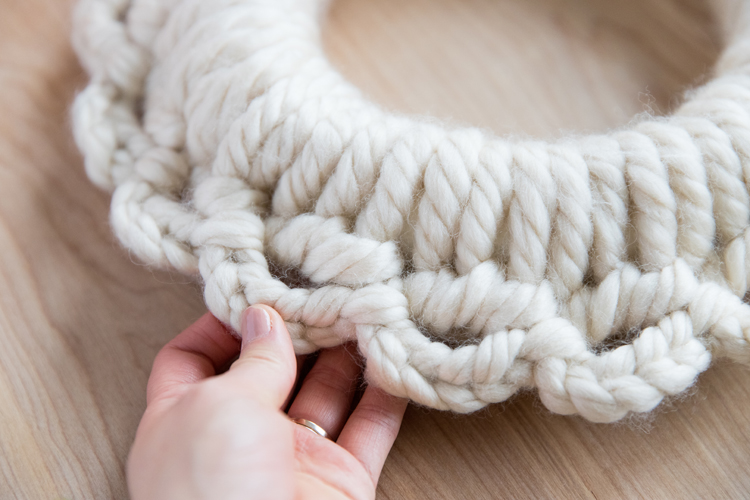 Long answer: Thick threads can be a bit of a wreath and tying a wreath shape is more work than a typical beginner crochet project, but I still think even a complete beginner can get around this. If it doesn't look clean and tight, don't be afraid of the frog (pull and start over).
Speaking of which, I also have a crochet series dedicated to teaching people how to crochet. If you'd like to know more, my crochet basics series starts with how to hold hooks and chains from scratch. Click here.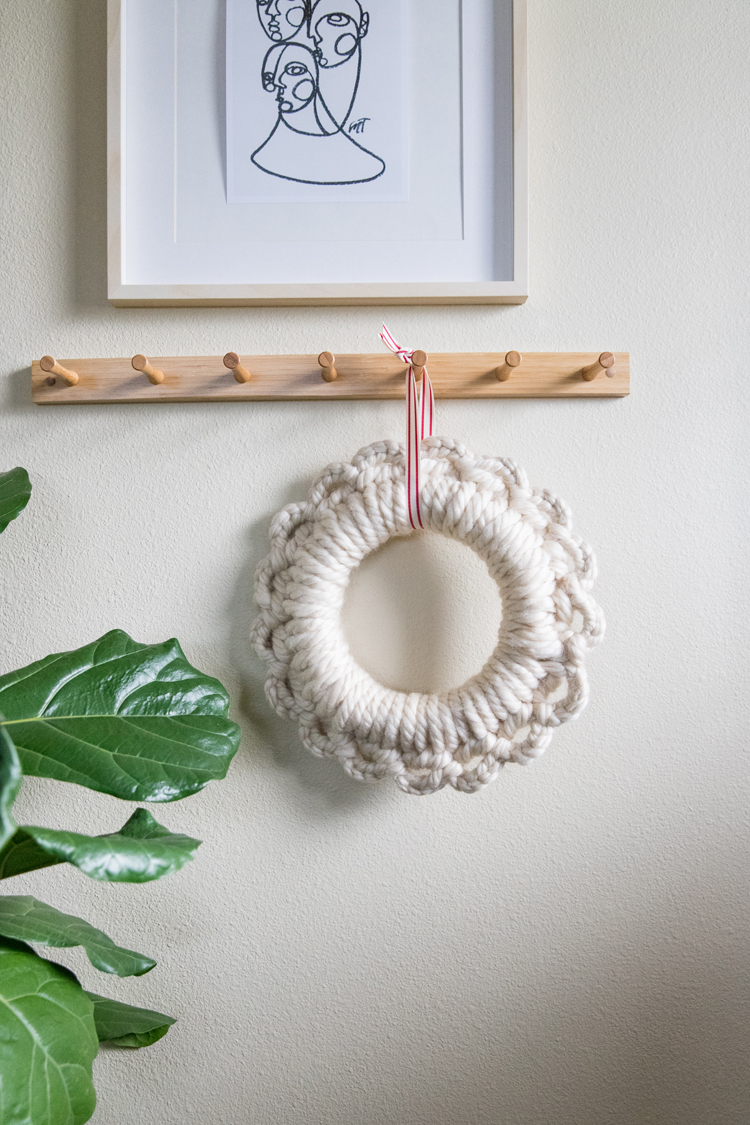 For this post, I'm sharing a video showing exactly how to wrap and secure a thread around a wreath so you don't have to guess the way through the photos.
let's go!
material
20 Yards of Jumbo Size 7 Yarn*
10-inch lease form**
Create a paint that matches the thread
9 or 10mm crochet hook***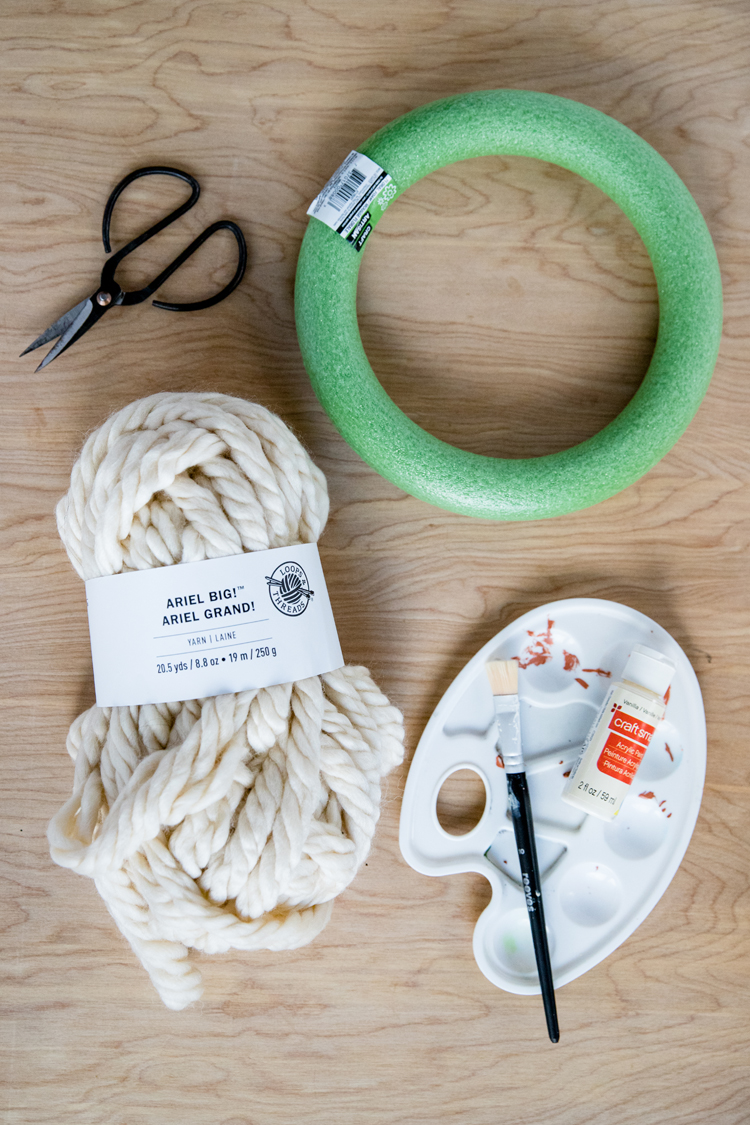 Material Note:
*I bought a bundle of Ariel Big! Loop and thread cream thread. 20.5 yards and 8.8 ounces. By the time we finished eating, we had less than a yard left.
** I found the 10-inch wreath form on Dollar Tree. Whoa whoa! The wreath is about 10 inches in diameter and the ring itself is less than 2 inches. If the foam leases have different dimensions, you may need to adjust the amount of thread required. One skein was barely enough to complete my wreath.
***I do not care ~ degree How big is your hook. As long as you can grab a very thick jumbo sized thread and pull it nice and taut. After initial chaining (done with fingers) to the wreath shape, the loop is worked with very tight chains and slip stitches, making it easier to manage with hooks than fingers.
Cost: If you can sell yarn or buy it with a coupon and you can get the wreath at a dollar store, you can whip this wreath for about $10. It's not bad!
video tutorial
If your video player is not already displayed at the top or side of your screen, you can view it here.
Music Credit: Pleasant Pictures Music Club.
Tutorials and patterns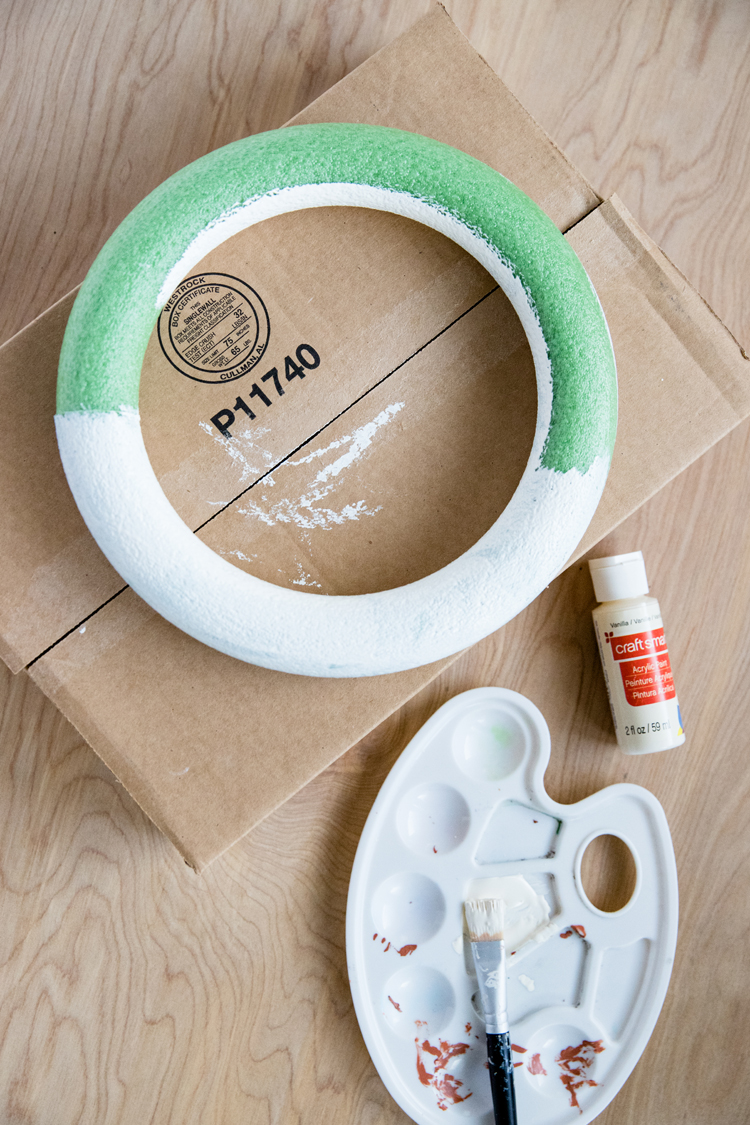 Step 1: Paint the shape of the wreath to match the thread.
This will give the finished shape of the wreath a more stylish look. You don't want a green piece that stings any needle.
Dry completely.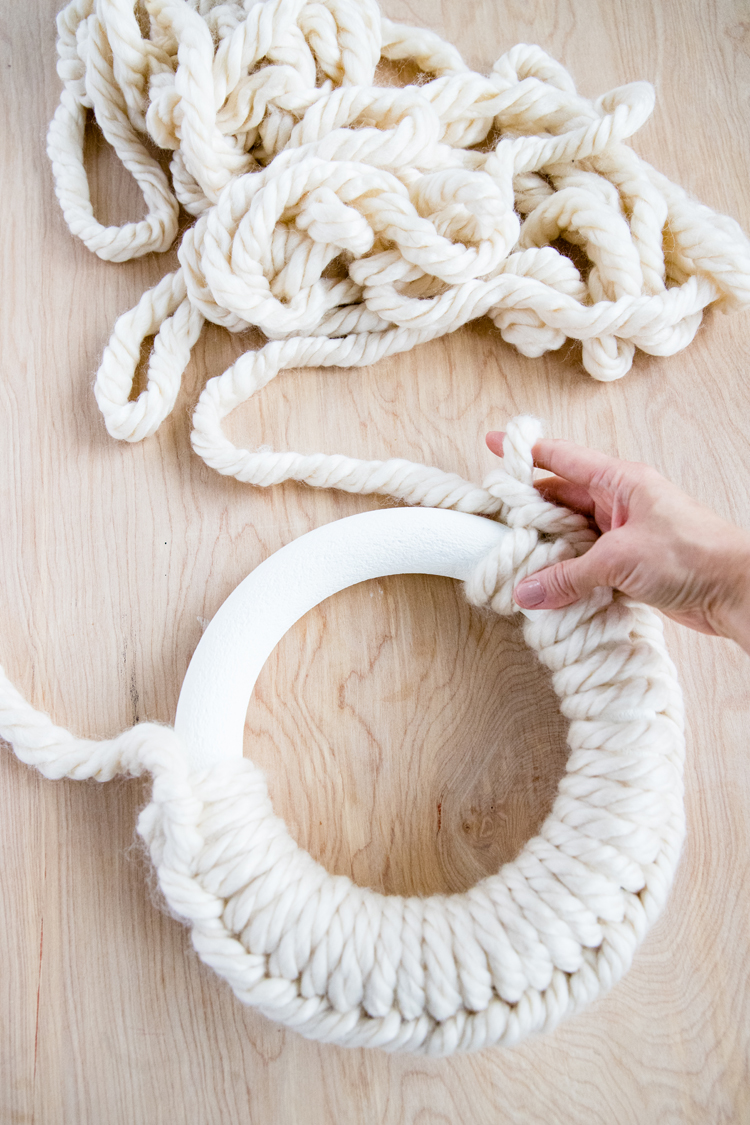 Step 2: Chain the wreath shape 52 times.
Leave a 6-7 inch tail and make a slip stitch. Insert the pointer finger and thumb into the open loop.
Wrap the thread around the wreath, and pull or pinch the working thread (attached to the thread ball/skein, not the tail) through the loop around your finger with your finger to pull the other loop.
Put a ball of thread in the center of the wreath, wrap it again, and pull another loop of thread with your fingers.
(The video makes these written instructions much clearer.)
Slide the stitches closer together as needed to make room for more stitches.
Repeat this for a total of 52 stitches around the wreath.
When you make it all the way around the wreath, slide the stitch into the first chain.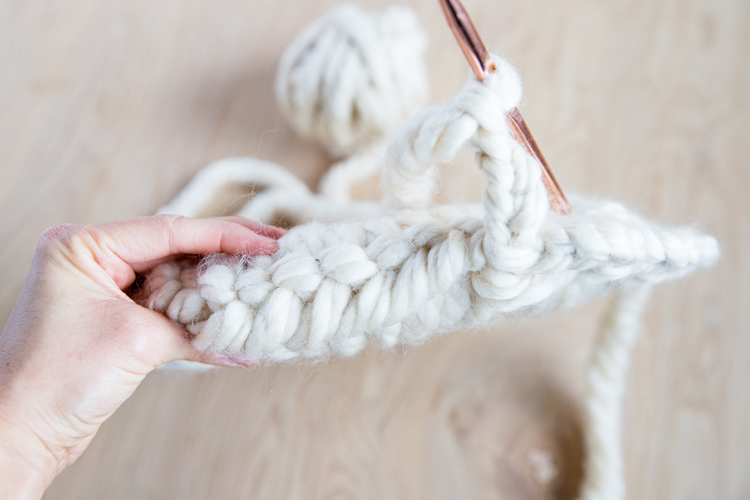 Step 3: Create a Connected Loop.
Make five tight chains using crochet loops.
Skip the next two stitches and do a slip stitch on the third stitch on the hook (also called the last stitch). This creates one chain loop.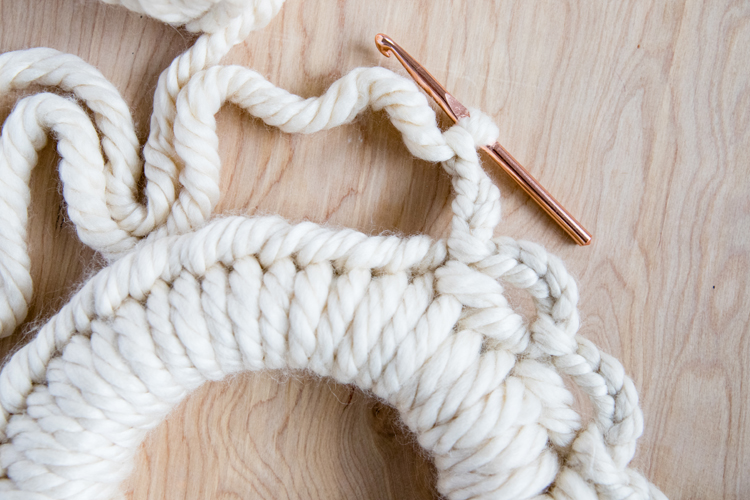 Repeat this pattern by working 5 tight chains, skipping 2 stitches, and slip stitching with the next stitch, making a total of 17 loops.
To complete the last 17th loop, you need to slide the stitch into the first loop's stitch.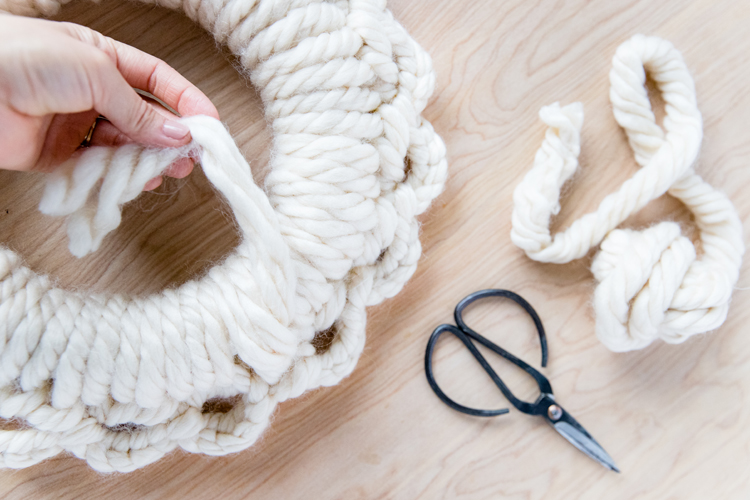 Step 4: Tie and tuck the ends.
Tie the ends. Trim off excess thread leaving at least 7 inches of tail. Now put both the start and end tails in the stitch that wraps the wreath.
complete!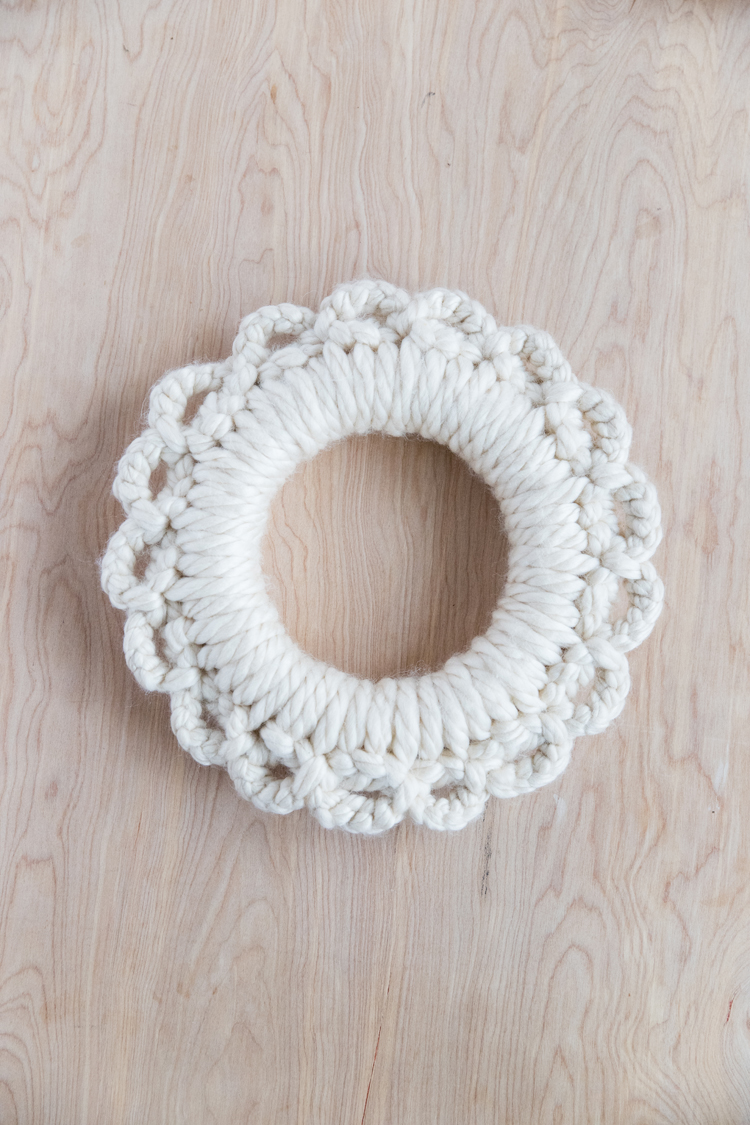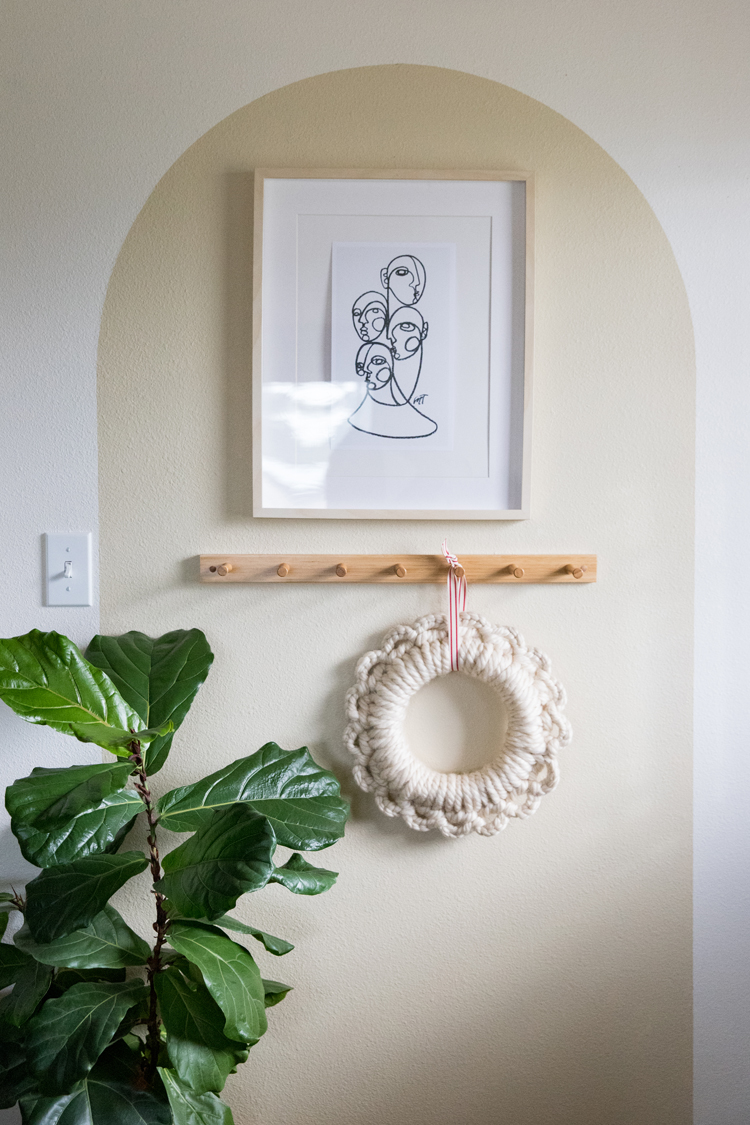 Optional: You can add a ribbon loop to hang it.